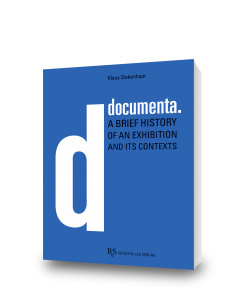 documenta.
A Brief History of an Exhibition and Its Contexts
This book recounts the history of documenta in many stories, pictures, graphics, statistics and artist lists. At its forefront are the cultural orientation, artistic connections and essential facts on understanding documenta.
Klaus Siebenhaar provides a compact and profound overview of the most important temporary exhibition of contemporary art worldwide. The history of documenta reflects more than just the crucial lines of development and tendencies of 20th century art. documenta covers all important stylistic aspects, such as aesthetic innovations, and it documents the relentless expansion of the art term. More than 60 years of documenta attest the social, political, cultural and everyday spaces that modern art has created over the last 100 years.